So I won tickets to Opening Night of Catch Me If You Can at the Pantages theatre in Hollywood. If you know me, Musical theater is my one true passion. It's something I am planning to venture back into this coming year. Since I have been away far too long. But that's another post on its own.
So we got dressed up and drove into LA, now I live in OC, so it's about an hour and a half drive in traffic. Not too bad. Luckily my boyfriend has been working early shifts so we didn't have to rush. Ok we wouldn't have had to rush if I hadn't said, we should stop by the grocery store I just want to grab one thing.. $60 and an hour later.. lol. But we got there with 30 minutes to spare so we were both pleased.
Now one of my favorite things about Pantages opening night is the fact that the Stars come out to play. I haven't been lucky enough to catch Neil Patrick Harris at one of these yet but I have hopes and dreams. The fun part of the night was seeing and getting to hug different celebrities. None of them really huge names.. but a lot of them people that I admire. I love hollywood because I love seeing people get to live out there dreams.
Best moment of the night, I totally wish my dad had been there but I got to hug and take a picture with Thomas Lennon. If you don't know who that is he is the Lt. on Reno 911. He is my dad's favorite character on the show and I think he is a riot. So I was so excited to see him and the fact that he was so incredibly sweet to stop and take a picture with me, made me just swoon with happiness.
I saw other stars like Jennifer Taylor, she played Chelsea on the Original 2 and a Half Men. Ken Davitian from Borat. Joey King from Oz. Anna Trebunskaya from Dancing with the Stars. Rebecca Mader from Devil Wears Prada. and a ton more I recognized but couldn't tell you the name of.
Now all I knew about this show was that it was just starting its National Tour and that it had been on Broadway. I also had seen the movie so I knew at least the story. That was the extent of my knowledge of the show. Normally I would have known the show back and forth but lately I have been a bit behind on the scene. I know I know. It's terrible.
Now I don't normally say this but Stephen Anthony who played Frank Jr. (the lead) was phenomenal. I mean his range, his voice was so clear and beautiful I was blown away. I fell in love with the show. I loved a lot of the songs already added them on Spotify.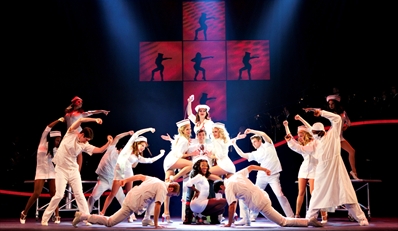 So if you live in a city that Catch Me If You Can Will be floating through give it a chance. You will not be sorry.